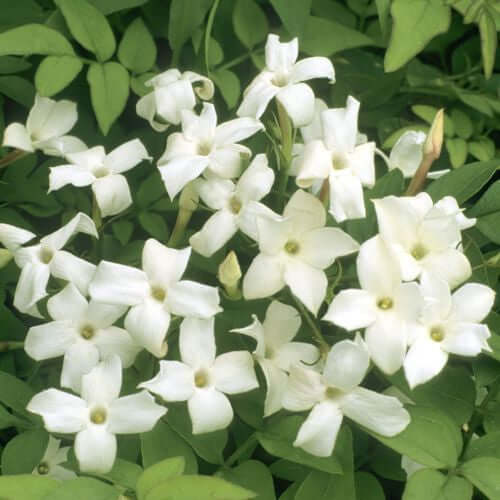 Jasmine Absolute Oil 5% dilution in Jojoba
Jasmine Absolute Oil
5% dilution in Jojoba
has a sweet, sensual, warm, intensely floral aroma with fruity undertones. This luxurious scent is used in perfumery, helping to create an environment of harmony and relaxation. In aromatherapy, Jasmine Absolute Oil opens the heart and soul, and awakens the senses.

Jasmine Absolute Oil 5% dilution in Jojoba has an exquisite bouquet derived from the delicate Jasmine blossoms known as the "King of Flowers." It is thought to be a powerful aphrodisiac, stimulating arousal and inspiring feelings of love, passion and joy. An ancient devotional anointing oil, Jasmine is believed to open pathways to blessings, protection, and good luck.

Additionally, Jasmine Grandiflorum Oil 5% is nourishing and balancing to the skin for true rejuvenation. This timeless, romantic scent has captivated hearts for centuries, making it perfect for use in a diffuser and room sprays, as well as for creating unique and luxurious spa and skincare products.


Botanical Name:
Jasminum grandiflorum L.
INCI Name:
  Simmondsia chinensis (Jojoba) Seed Oil, Jasminum Grandiflorum Flower Extract
aka:
Jasmine Essential Oil, Jasmine Oil, Jasmine Grandiflorum Essential Oil
Origin:
India
Extraction Method:
Hexane free solvent extraction of flowers.
Main Constituents: benzyl acetate (37%), benzyl benzoate (34.7%), linalool
(9.6%), isophytol (5.5%), methyl linoleate (2.8%), eugenol (2.5%)
Appearance and Consistency: Amber orange to reddish brown slightly viscous liquid.
Aroma Intensity: Strong
Perfume Note: Middle


Blends with: Bergamot, Blood Orange, Clary Sage, Frankincense, Geranium, Helichrysum, Lavender, Neroli, Palmarosa, Petitgrain, Rose, Rosewood, Sandalwood and Vetiver.

Precautions: Jasmine Absolute Oil 5% should be avoided during pregnancy. Use sparingly as Jasmine can be overpowering. For external use only.

Packaging:
5ml (1/6oz) Amber Glass Bottle with Tamper Resistant Dropper Insert Cap
5ml (1/6oz) Clear Glass Bottle with Roll On Cap
10ml (1/3oz) Amber Glass Bottle with Tamper Resistant Dropper Insert Cap
10ml (1/3oz) Clear Glass Bottle with Roll On Cap
15ml (1/2oz) Amber Glass Bottle with Tamper Resistant Dropper Insert Cap
30ml (1oz) Amber Glass Bottle with Tamper Resistant Dropper Insert Cap
50ml (1.69oz) Amber Glass Bottle with Tamper Resistant Dropper Insert Cap
100ml (3.38oz) Amber Glass Bottle with Tamper Resistant Dropper Insert Cap
​500ml (16.9oz) Aluminum Bottle​
​1000ml (33.8oz) Aluminum Bottle
Inhale: Simply open the bottle and inhale, or put a 1-2 drops on a tissue or cotton ball. Add 10-15 drops to an empty personal Inhaler.
Diffuse: Add 5-10 drops to a Room or Vehicle Diffuser.
Mist Spray: Add a few drops to spray bottle with water and use as a room air freshener, linen spray, toner or vehicle deodorizer.
Soap: Add 3-5% to a natural unscented Liquid Soap or other aroma free cleaning products.
Apply to your wrists, just as you would use a perfume or use as a Massage Oil. Add directly to your bath, or add to natural unscented shower and bath products. Create your own unique Aromatherapy Creams, Lotions, Massage Bars, or Bath, Body & Hair Care products. (Add 3-5%).
Laundry: Add a few drops to wool dryer balls instead of using chemical dryer sheets.
Sauna: Add 1 drop to hot stones or add 5 drops to a cup of water to pour over stones.
Foot Bath: Pamper yourself with an Aromatherapy foot bath. Add 2-4 drops to a basin of warm water.
We have a 100% Customer Satisfaction Guarantee. Any item can be returned within two weeks of receipt of your order for a full product refund.
Processing Time: Orders are typically processed the same day and shipped out the next business day.

Free Shipping* over $99
Economical Flat Rate Shipping* under $99
All orders are shipped via Canada Post Expedited (Carbon Neutral). Tracking number is provided with each order. We ship within Canada only.

Shipping Times:
BC - 1-3 business days
AB, SK, MB - 2-4 business days
ON, QC - 3-7 business days
NT,NU,YT - 4-8 business days
NB, NS, NL, PE - 5-8 business days

*Free Shipping is calculated on your order subtotal after coupons and discounts and before shipping & taxes.