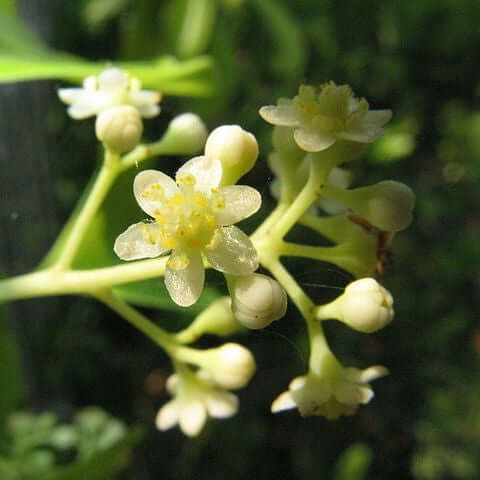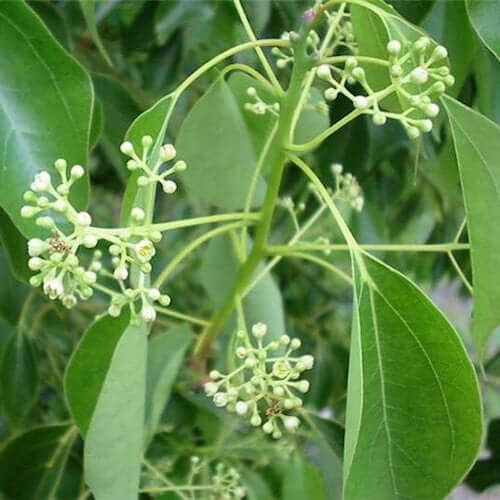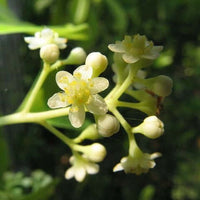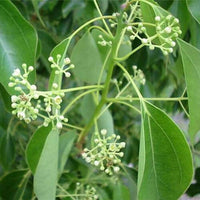 Ravintsara Essential Oil - (Ho Leaf Oil)
Ravintsara Essential Oil (Ho Leaf) has a fresh, sweet-spicy eucalyptus like aroma with peppery undertones. When used in Aromatherapy Ravintsara Essential Oil is refreshing, invigorating, focusing, clearing, strengthening, calming and purifying. Ravintsara promotes positive thinking, mental clarity and calms the mind during times of stress or performance anxiety.

Ravintsara (Ho Leaf) Essential Oil is similar to Eucalyptus with a softer, milder aroma. Ravintsara (Ho Leaf) is often confused with Ravensara (Ho Wood) Essential Oil, but they are completely different oils.

Botanical Name: Cinnamomum camphora ct. cineol
INCI Name: Cinnamomum Camphora Leaf Oil
aka: Ho Leaf Essential Oil, Cinnamomum Camphora Leaf Oil, Ravintsara Oil

Origin: Madagascar
Extraction Method: Steam distillation of leaves
Main Constituents: 1,8 cineole (eucalyptol) 50-65%, sabinene 10-18%, a-terpineol 5-11%, a-pinene 3-4%
Appearance and Consistency: Colourless to pale yellow thin liquid.
Aroma Intensity: Medium to Strong
Perfumery Note and Strength: Middle/Top

Blends with: Bay, Black Pepper, Cedarwood, Cinnamon Bark, Eucalyptus, Frankincense, Grapefruit, Lavender, Lemon, Myrtle, Peppermint, Pine, Rosemary, Sandalwood, Spearmint, Tangerine, Tea Tree, Thyme and Vetiver.
​
Precautions: Ravintsara Essential Oil should be avoided during pregnancy, nursing and around young children. Ravintsara Essential Oil can be a possible skin irritant. Use only after diluting with a carrier oil. Avoid contact with eyes. For external use only.


Storage: To prolong the shelf life of Essential Oils and Absolutes, keep away from heat and light in a tightly sealed dark glass container.


Packaging:
5ml (1/6oz) Amber Glass Bottle with Tamper Resistant Dropper Insert Cap
10ml (1/3oz) Amber Glass Bottle with Tamper Resistant Dropper Insert Cap
15ml (1/2oz) Amber Glass Bottle with Tamper Resistant Dropper Insert Cap
30ml (1oz) Amber Glass Bottle with Tamper Resistant Dropper Insert Cap
50ml (1.69oz) Amber Glass Bottle with Tamper Resistant Dropper Insert Cap
100ml (3.38oz) Amber Glass Bottle with Tamper Resistant Dropper Insert Cap
​500ml (16.9oz) Aluminum Bottle​
​1000ml (33.8oz) Aluminum Bottle
Inhale: Simply open the bottle and inhale, or put a 1-2 drops on a tissue or cotton ball. Add 10-15 drops to an empty personal Inhaler.
Diffuse: Add 5-10 drops to a Room or Vehicle Diffuser.
Mist Spray: Add a few drops to spray bottle with water and use as a room air freshener, linen spray, toner or vehicle deodorizer.
Soap: Add 1-3% to a natural unscented Liquid Soap or other aroma free cleaning products.
Dilute with a Carrier Oil of your choice (3-5%). Apply to your wrists, just as you would use a perfume or use as a Massage Oil. Add directly to your bath, or add to natural unscented shower and bath products. Create your own unique Aromatherapy Creams, Lotions, Massage Bars, or Bath, Body & Hair Care products. (Add 1-3%).
Laundry: Add a few drops to wool dryer balls instead of using chemical dryer sheets.
Sauna: Add 1 drop to hot stones or add 5 drops to a cup of water to pour over stones.
Foot Bath: Pamper yourself with an Aromatherapy foot bath. Add 2-4 drops to a basin of warm water.
We have a 100% Customer Satisfaction Guarantee. Any item can be returned within two weeks of receipt of your order for a full product refund.
Processing Time: Orders are typically processed the same day and shipped out the next business day.

Free Shipping* over $99
Economical Flat Rate Shipping* under $99
All orders are shipped via Canada Post Expedited (Carbon Neutral). Tracking number is provided with each order. We ship within Canada only.

Shipping Times:
BC - 1-3 business days
AB, SK, MB - 2-4 business days
ON, QC - 3-7 business days
NT,NU,YT - 4-8 business days
NB, NS, NL, PE - 5-8 business days

*Free Shipping is calculated on your order subtotal after coupons and discounts and before shipping & taxes.